Birks
Architecture meets
technology

.
Established in 1879, Birks is Canada's leading designer of fine jewellery. To engage shoppers, iGotcha Media designed a captivating digital signage concept for the opening of their flagship Canadian stores located in Montreal and Toronto. Birks has occupied this historical space since 1894, which includes rustic doors and extravagant pillars. iGotcha Media added contemporary technological elements while highlighting the charming architectural details.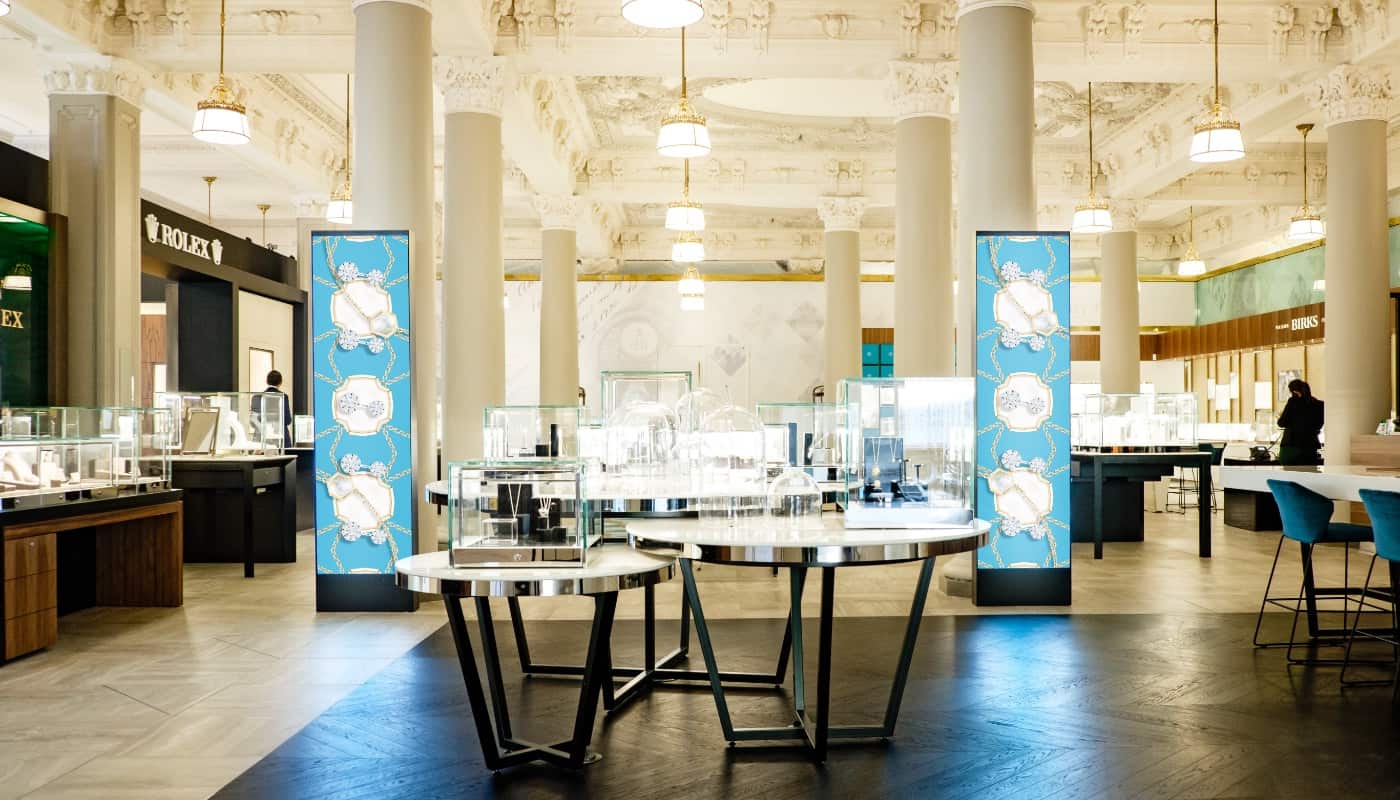 For Birks' Montreal store, iGotcha Media's team collaborated with experts from AEdifica to preserve the building's history and strategically integrate digital solutions into this retail environment. We collaborated to determine the ideal customer journey and the role technology would play within it.
To create a seamless customer journey, iGotcha Media conducted an audit to identify Birks' digital goals and develop an experience strategy. After scoping appropriate hardware and software that seamlessly integrates into the architectural design and luxurious materials, iGotcha Media designed and developed engaging content for Birks' new digital retail experiences. The new concept consists of high-end large LED boards, designed for sleek integration, complex geometry such as corner wrap and columns. Tall screen-based totems provide a unique and elegant canvas to compliment geometrical themed animated motion graphics content.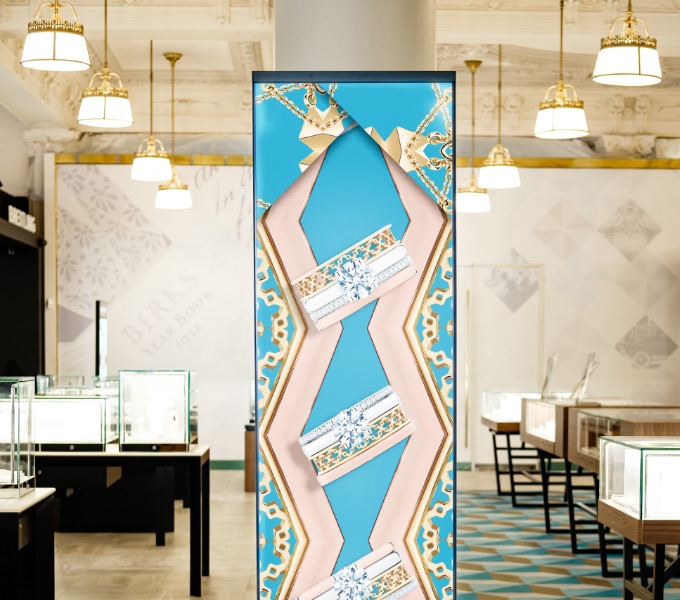 At Birks' Toronto flagship location, a 9.5-foot-tall corner LED display helps attract customers to the store, establishing a connection at the beginning of the brand journey. The eye-catching corner design of the installation allows for a creative display of content. This unique design allows the content to flow evenly on both walls helping to draw consumers from multiple angles. This original installation highlights the beauty of the products, incorporates lifestyle video and imagery, and enhances the store's décor. Visible from outside of the boutique, the LED video wall appeals to shoppers and passersby alike.
Once inside, customers are further captivated by 88-inch stretch totem displays with custom-made enclosures that perfectly complement the 19th-century building's aesthetic. This installation enabled Birks to build deeper emotional connections with customers by bringing brand stories to life on vibrant digital signage experiences.
Digital signs were also installed in the Birks First Canada Place location in the heart of Toronto's financial district. In this Toronto location, an impressive 12.5-foot by 7-foot screen was deployed at the entrance of the shop to promote Birks' elegant campaigns and products. The mall's high ceilings enable this screen to be seen from both the first and second floor attracting shoppers from all directions.
These beautiful integrated brand experiences are powered by iGotcha Signage, our proprietary CMS, providing Birks with the utmost flexibility and freedom to schedule, modify, and deploy content remotely and in real-time. Our turnkey digital signage solution created an immersive customer experience in Birks stores that has helped Birks attract customers to the retail store and build brand advocacy.