Digital Signage in Toronto
Providing innovative
digital solutions

...
Digital Signage
solutions
.
iGotcha Media delivers fully integrated digital signage in Toronto to create deep emotional bonds between brands and their customers. In an era of infinite choice, consumer loyalty is dying, expectations are rising, and attention-spans are virtually non-existent. The rules of the game have changed, and the stakes have never been higher. We live in an age where experience is everything. Buying decisions and consumer loyalty are based on emotional, human connections. Brand experiences must be impactful, memorable, and mesmerizing, establishing meaningful bonds at a personal level. We achieve this by converting consumers from passive recipients to experiential partners. We create brand stories that are lived, not told. Our solutions include digital signage, wayfinding kiosks, video walls, and interactive digital signage and kiosks, bank digital signage and custom hardware solutions. We are a customer focused digital signage solutions provider in Toronto and Montreal.
Our expert team designed a turnkey solution for National Bank that gained much recognition. iGotcha Media designed, built and installed two stunning digital LED displays outside the National Bank building. The first sign was an eye-catching 10' high x 14' wide video wall, and the second sign was a sleek ticker tape display. The project was a big success and in 2012, was awarded the Award of Merit for LED installations by the Sign Association of Canada.

iGotcha Media implemented digital menu boards for the opening of WVRST's Toronto Union Station location. The modern beer hall wanted to ensure the digital menu boards reflected the look and feel of WVRST's branding while also tying into the train station location. This fully integrated brand experience included iGotcha Software, and four 55" digital menu boards which hung from both sides of the restaurant's bar.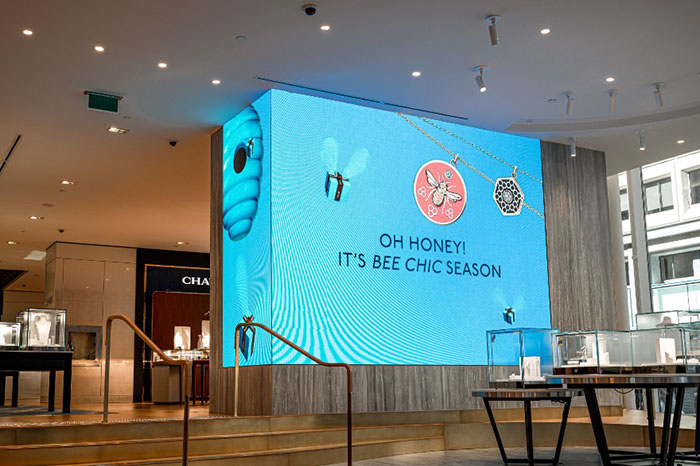 To engage shoppers, iGotcha Media designed a captivating digital signage concept for the opening of their flagship Canadian stores located in Montreal and Toronto. At Birks' Toronto flagship location, large LED displays were installed to help attract customers to the store, and establish a connection at the beginning of the brand journey.  The eye-catching installations highlight the beauty of the products, incorporates lifestyle video and imagery, and enhances the store's décor. Visible from outside of the boutique, the LED video wall appeals to shoppers and passersby alike. Digital signs were also installed in the Birks First Canada Place location in the heart of Toronto's financial district, where an n impressive 12.5-foot by 7-foot screen was deployed at the entrance of the shop to promote Birks' elegant campaigns and products.